Programs

Brochure
This page is the brochure for your selected program. You can view the provided information for this program on this page and click on the available buttons for additional options.
SAO The KU Leuven-Illinois Experience: Encountering Europe through the Lens of Social Science

-An Illinois Center for Global Learning and Engagement
---
** New deadline for spring 2014: October 7 **


Program Overview

In collaboration with the University of Leuven (KU Leuven), the University of Illinois has developed a study abroad program in Leuven, Belgium that provides you with unique intercultural learning opportunities across the social sciences and humanities. European and US students participate in common classes and curriculum as you explore the social and demographic transitions that accompany and underpin globalization. You will select courses from multiple academic pathways, ranging from social science specializations to a broader multidisciplinary experience across the humanities, business, and communication. You can study abroad on the KU Leuven-Illinois Experience during fall or spring semester. Spring students will also enroll in a core course on family dynamics and population change. This program is available in both the fall and spring semesters.

---
Program Specific Information
General Study Abroad Information
---
---
What is an Illinois Center?
Located in various countries around the world, Illinois Centers for Global Learning and Engagement represent the premier sites for study abroad developed by the University of Illinois over the past forty years. At each Center, you encounter a personalized and guided learning experience introducing you to new languages, cultures, and academic areas. To read more about Illinois Centers, click here.

(Back to top)
---


The City of Leuven

With nearly 100,000 residents, Leuven is a ringed medieval town with a large university student population and is 20 minutes away by train from Brussels, the capital of the European Union. As the majority of the population speaks English (as well as Dutch and French), Leuven is a great place for interactive experiences with the peoples and cultures of Belgium. In addition to beautiful abbeys, churches, parks, and farms surrounding Leuven, there are important museums and historical sites in Belgium associated with the two World Wars. Being only an hour and a half away from Netherlands, France, Germany, and Luxembourg means that Leuven is an ideal base from which to learn about other areas of Europe.

(Back to top)
---
Academic Environment

Where You Will Study

At nearly six hundred years of age, University of KULeuven is one of the oldest and most respected centers of higher learning on the continent. Around 40,000 students enroll in courses offered in 14 faculties. In addition to 40,00 students, KU Leuven also hosts over 5,500 international students each year from study abroad and exchange programs such as ERASMUS, ATLANTIS, and PECS international programs, and offers an extensive portfolio of courses with a comparative or international dimension. As a hallmark of its tradition and commitment to the future, KU Leuven provides its study abroad students with access to a wide range of services that help facilitate and support international exchange.

For more information on where you will study please visit this site.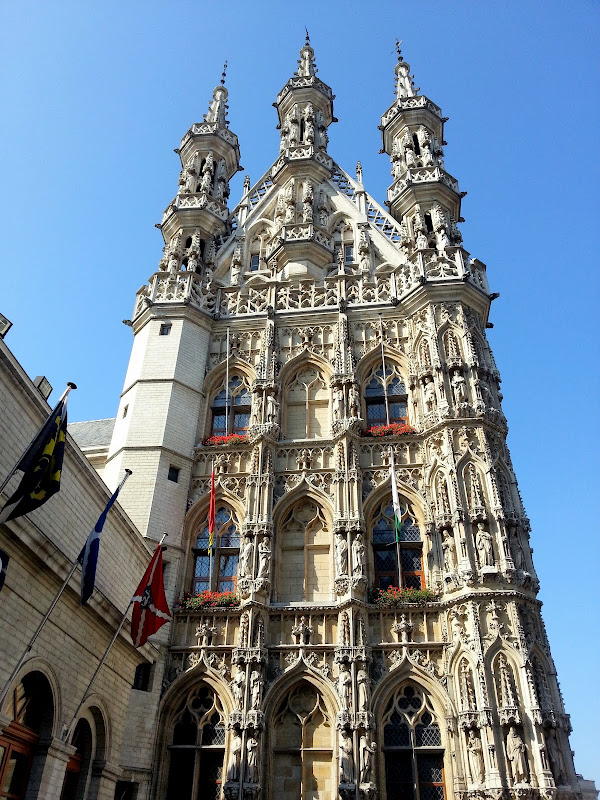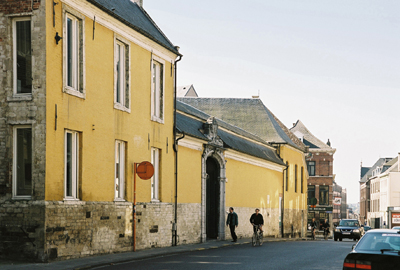 Courses

Hosting over 5,500 International Students, Leuven has a wide variety of course options across multiple disciplines, with spring students enrolling in a core course. Sample departments with course offerings in English include:
Anthropology
Business (Informatics, Management, and Marketing)
Communications and Media Studies
Economics
European Union governance and policy
Law
Linguistics (taught in English, French, German, Italian, or Spanish)
Literature (taught in English, French, German, Italian, or Spanish)
Philosophy
Political Science
Psychology
Sociology
Theology
For a full listing of courses, click on the following link

For a listing of courses offered that already have Illinois equivalencies, please click here.

Note: As a study abroad participant through a University of Illinois approved program, once you are accepted to the program, you will be required to go through a Course Approval Process. During this process, the courses you plan on taking abroad will be evaluated by a 299 Advisor for Illinois credit (the credit can then be used to fulfill major, minor, general education, or elective credit, depending on the approval of the advisor). Details about this process will be provided once you are accepted to a program.

Class size

Similar to that of the University of Illinois, class sizes will vary at this large institution. Large lectures are accompanied by smaller discussions, which range from 15-30 students per classroom.

Language

With the exception of several linguistics and literature courses, all coursework is in English.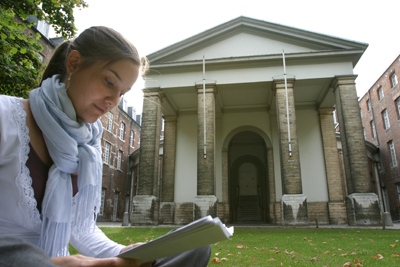 *Required Spring Core Course Description:

Family Dynamics and Population Change

Taught by the spring resident director and Illinois professor emeritus, Gray Swicegood, this course will serve as both your academic anchor and a cross-cultural lens for how you understand the people living around you. You will examine how European populations live out their lives from birth to old age. As you consider historical population change across European populations, you will see how that change is the outcome of "the second demographic transition" that involves major shifts in the typical schedules of childbearing, marriage, divorce, and cohabitation.

You will explore how the extent and timing of key life course transitions such as completion of schooling, marriage, and parenthood lead people to consider the following types of questions: When do women have their children and how many do they have? Who goes to college and who doesn't? What are the avenues and constraints for career mobility? When does retirement occur? How has the temporality of these phenomena changed over time?

---
Onsite Support
Each Illinois Center has an onsite resident director whose purpose is to support you both inside and outside of the classroom during your time abroad.
Fall semester: Roger Janssens
Your resident director during your fall semester abroad is Roger Janssens. He is the Executive Director of the International Mobility and Cooperation Office at the KU Leuven Faculty of Arts.

Spring semester: Gray Swicegood

Your resident director during your spring semester abroad is Gray Swicegood. He started teaching at the University of Illinois at Urbana-Champaign in 1984 and is now an emeritus professor in the Department of Sociology. His research interests are the sociology of the life course, family formation, and social dimensions of consumer behavior.

---
Accommodations

You will live in one of a range of student dormitories within walking and biking distance from the university.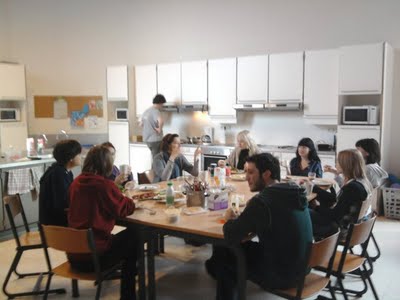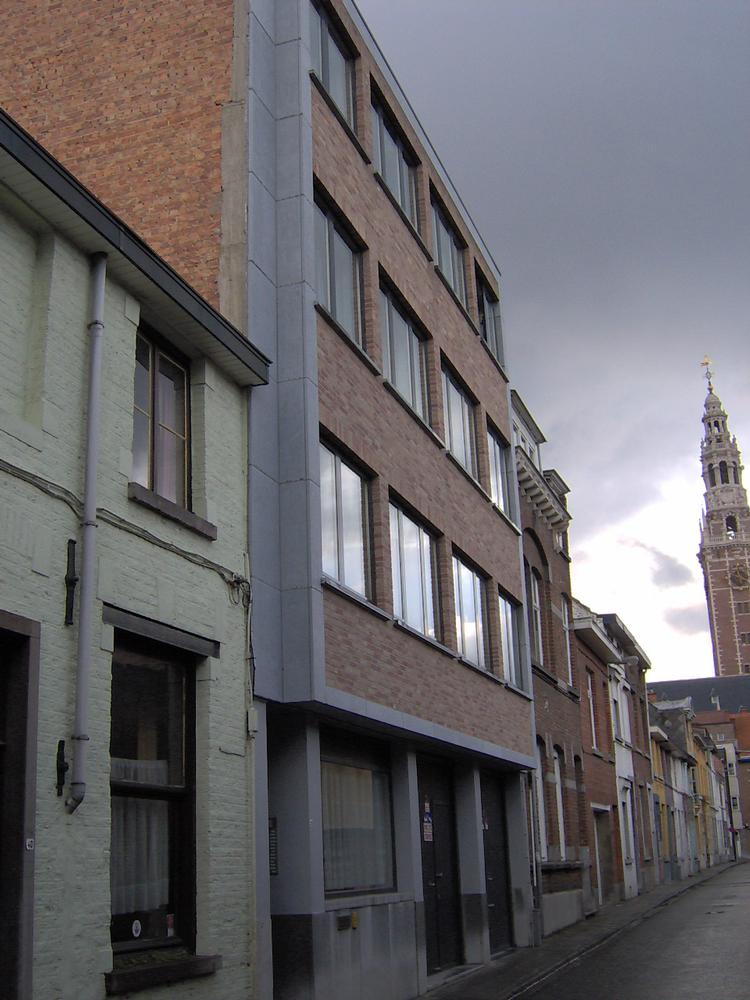 (Back to top)
---
Returned Study Abroad Student Reflections
Scanned PA Sheets
Video of returnee on experience
Contact former Study Abroad students
Having trouble deciding on a location? Unsure about what to pack, or which classes to take? Send an email to someone who has been there! Our returnees love talking about their time abroad, so send them an email! Contact information found here!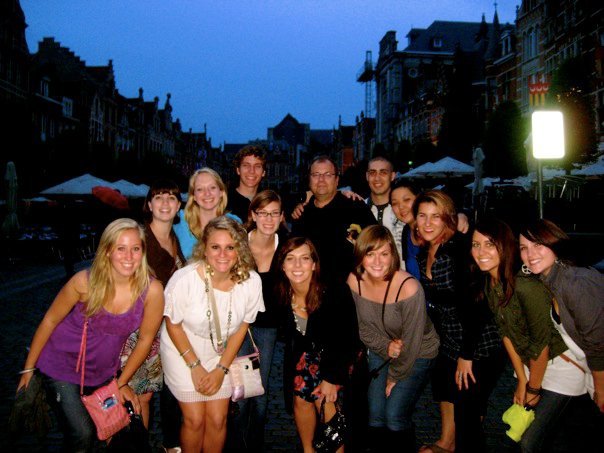 (Back to top)
---
Additional Program Resources

Before You Leave

The Before You Leave section on our website provides you with information on what to pack, money abroad, transportation, communicating with family members while abroad, and even what to do the day of your departure.

Country videos
Flickr
Check out our Flickr album of photos taken by students while abroad in Belgium!

Country links
Belgium Country Info

Belgium News Sources

Belgium Travel Info
Country CultureGram
CultureGrams are concise, reliable, and up-to-date information on more than 200 countries. They go beyond mere facts and figures and try to deliver an insider's perspective on daily life and culture, including history, customs, and lifestyles of the country in mind. Visit Belgium's CultureGram here!
---
Application Process

Eligibility
To participate on the program you must be a Illinois undergraduate and have a GPA of at least 2.75; however a 3.0 or above is preferred.
Dates and Deadlines

All requirements must be completed by the Study Abroad Office deadlines: online materials are due by 11:59 PM on the deadline date; paper materials are due by 4:45 PM the following business day. Preference will be given to students applying by the priority deadlines.
Spring Semester Programs
Priority Deadline: June 15
Final Deadline: September 15

Summer/Fall/Academic Year Programs
Priority Deadline: January 15
Final Deadline: February 15
How to Apply

Please click the Create App button (found at the top-right of this page) to apply. Note that you will be charged a non-refundable $25 application fee by clicking Create App and logging in.

This program has a two-step application process:

Step 1.) The Study Abroad Office Application, which includes:
Official transcript

1 letter of recommendation (must be from an academic advisor, TA, or professor)

Personal essay in English

Photocopy of passport

Signature Verification Form

Online questionnaires
Only application materials for Step 1 must be turned in by the corresponding term's deadlines as listed above.

Step 2.) The Host University Application (TO BE COMPLETED AFTER YOU ARE NOMINATED BY AN ADVISOR IN STEP 1):
If you are nominated by the Study Abroad Office based on your application in Step 1, you will then submit a host-university application to KULeuven. Your study abroad advisor will provide you with additional information, and supplemental application instructions will follow.
(Back to top)
---
Contact Information

Kristen Stout
Advisor for KU Leuven
kmstrom2@illinois.edu

Gray Swicegood
KU Leuven Resident Director for spring semesters and UIUC Emeritus Professor, Department of Sociology
swice@illinois.edu




Study Abroad Office (SAO)
910 S. Fifth Street
112 International Studies Building
Champaign, IL 61820
217-333-6322

Hours of operation: Monday through Friday from 9:00am to 4:45pm.

(Back to top)

---

Program Cost and Advance Fees

For an Unofficial Budget of this program, please scroll to the top of this page and find the box labeled "Budget Sheets," and click on the semester during which you want to participate. Please read through the Unofficial Budget information, which also includes information on Financial Aid, and Scholarships.

All students should be aware that once they are accepted to a program, they would be charged a non-refundable $305 fee to reserve their place on the program.

(Back to top)

---
Financial Aid and Scholarships

Because this program is sponsored by the University of Illinois, financial aid can be applied to the cost of the program. The amount of financial aid that is applicable to study abroad will depend on your financial aid package. Since there are many variables that determine how your financial aid package applies to study abroad, it is best that you consult with a financial aid advisor in the Office of Student Financial Aid to discuss your individual financial aid package.

In addition to financial aid, there are other alternatives to funding your time abroad. Click here to learn more about our over $850,000 in scholarship opportunities. One scholarship that everyone is eligible for is the Illinois for Illinois (I4I) Undergraduate Scolarship. For more information, click here.

For more information about general costs, tips, and advice, please watch the First Steps Cost, Financial Aid, and Scholarship videos found here for tips and advice.

(Back to top)

---
Health, Safety, and Pre-departure
The health and safety of students abroad is something that the University of Illinois takes very seriously, which is why the Study Abroad Office provides services that range from international insurance coverage to a 24-hour phone line to speak to an Advisor on Duty. These services can be found on our website.
Pre-Departure Orientation
All students are required to attend an all-day Pre-Departure Orientation the semester before their term abroad. The exact date, time, and location will be given to students post-acceptance so that they can arrange for their attendance at this orientation. During this orientation, topics such as Culture Shock, health and safety scenarios, and other helpful pre-departure information will be presented. This is also a really great opportunity to talk about packing, meet other classmates on a program, and talk to returnees who have already been to the host country.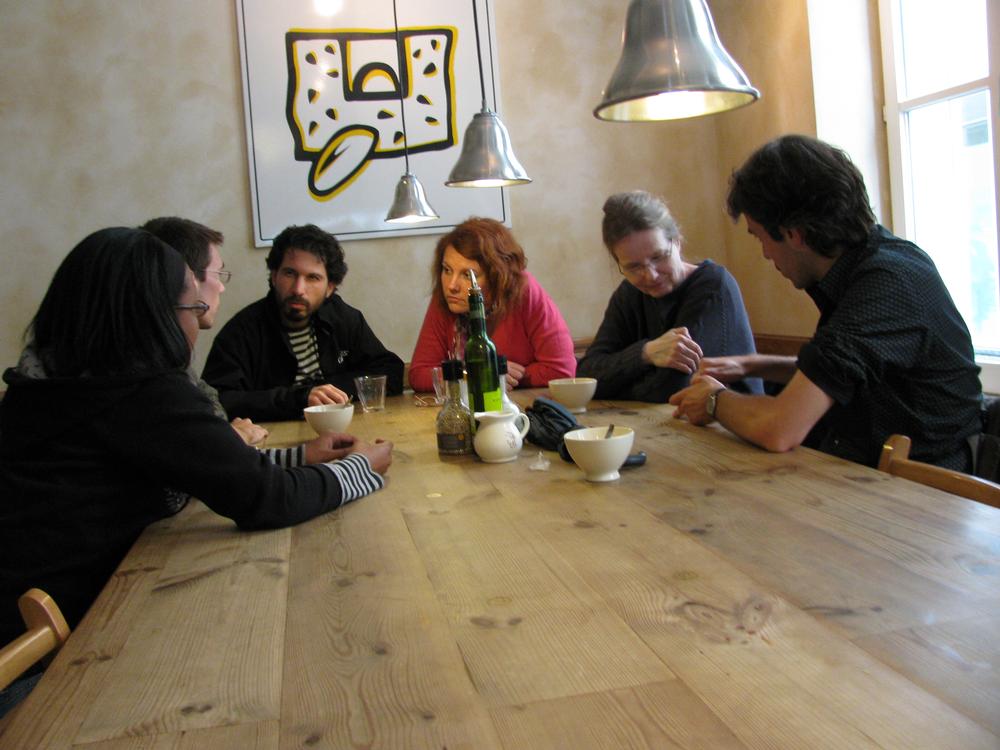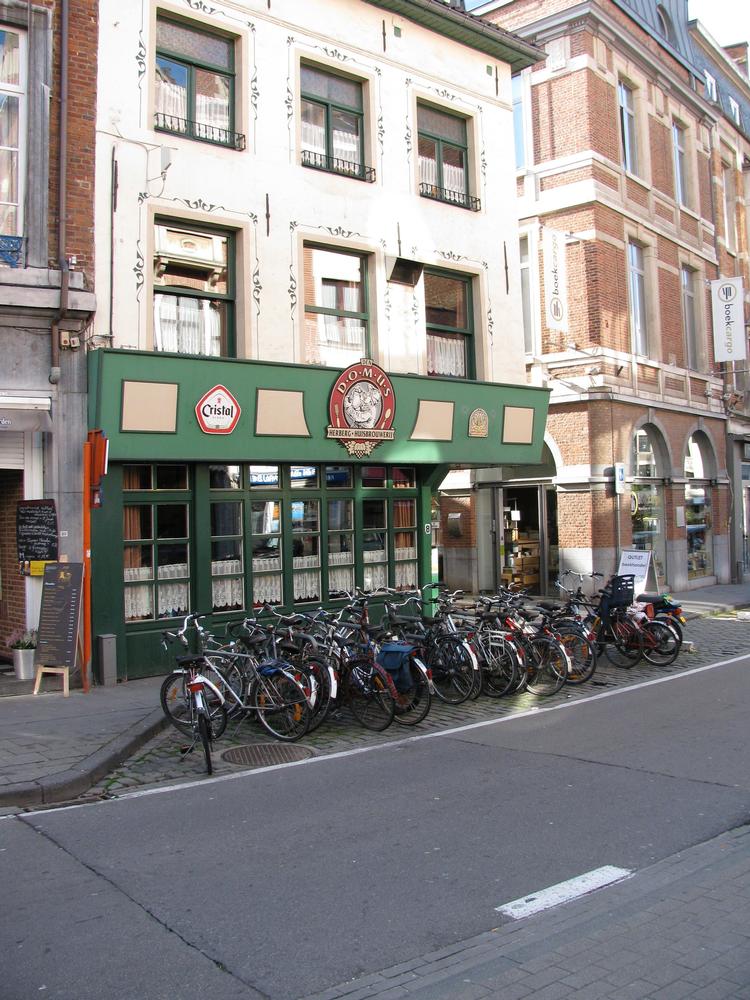 Additionally, students are required to sign off on a Health and Safety Orientation and are encouraged to read through the Safety and Security section of our website which includes topics from road safety and keeping your valuables and money safe, to nontraditional studentidentities while abroad.

This link includes information on our 24-hour emergency service, health matters, insurance, and safety and security.

---
Passport/Visa Information

You must have a valid passport to participate on this program. If you do not already have a passport, or if it needs to be renewed, you must begin that process now, even before program acceptance.

You may also be required to get a visa for your program. Please consult the host country's consulate website or a visa agency to determine whether or not a visa is required to travel to your destination country or countries.

For additional information, please visit our Passport and Visa webpage.

(Back to top)
---
Withdrawal, Change and Cancellation Policy

To withdraw, change, or cancel your participation in a study abroad program, please visit this link to view the Withdrawl and Refund Policy.

(Back to top)

Term

Year

App Deadline

Decision Date

Start Date

End Date

Spring Semester

2014

10/07/2013 **

Rolling Admission

01/29/2014

06/28/2014

NOTE: New deadline for spring 2014 is Monday, October 7.

Fall Semester

2014

02/15/2014

02/15/2014

TBA

TBA

Spring Semester

2015

09/15/2014

09/15/2014

TBA

TBA


** Indicates rolling admission application process. Applicants will be immediately notified of acceptance into this program and be able to complete post-decision materials prior to the term's application deadline.

Indicates that deadline has passed