Programs

Brochure
This page is the brochure for your selected program. You can view the provided information for this program on this page and click on the available buttons for additional options.
ACES in Costa Rica: VIDA Pre-Vet Study Tour
San Jose, Costa Rica
(Outgoing Program)
ACES in Costa Rica: VIDA Pre-Vet
Winter Study Tour
ANSC 398 in Costa Rica
San Jose, Costa Rica


Quick Links
Course Description
Program Cost
Financial Aid and Scholarships
Withdrawal, Change of Program, or Cancellation Policies
Passport/Visa Information
Application Process
Health, Safety, and Pre-Departure
Contact Information
---
Course Description

Take the next step towards your veterinary career by volunteering with VIDA. VIDA provides high quality spay and neuter field clinics in Central America in accordance with International Humane Society guidelines. VIDA currently supports communities in Guatemala, Nicaragua, and Costa Rica. VIDA offers a Veterinary Program for pre-veterinary as well as first and second year veterinary students and an Advanced Veterinary Program designed for upper level veterinary students and recent graduates.

If you are a student seeking a hands-on, mind-enriching, service learning experience with animals, VIDA is the right program for you!

This is a high quality educational program for those who wish to gain clinical and practical experience in the field of Veterinary Medicine. The VIDA program focuses mainly on the sterilization of felines and canines in field clinics; however, participants will also gain experience in working with large animals. Volunteers who participate in our program will have an interactive and unique experience that can only be obtained with VIDA.

Eligibility
UIUC undergrads or veterinary students interested in helping animals and enhancing their knowledge of veterinary science.

Courses
This course is worth 2 credits.
On campus meetings: Begin 2nd 8 weeks of the fall semester
Date/place/time of meetings is TBA.

Additional Resources
Faculty Leader Bio

Laura Davis
Laura is a Teaching Associate in the Department of Animal Sciences.


Group Flight: As part of the Program Fee, the ACES Abroad will organize a group flight for this course. All group flights will be departing from and arriving at O'Hare Airport. Very few exceptions are made for opting out of the group flight.

(Back to top)
---
Program Fees

For an Unofficial Budget of this program, please scroll to the top of this page and find the box labeled "Budget Sheets" and click on the term during which you want to participate. Please read through the Unofficial Budget information, which also includes information on Financial Aid and Scholarships.

Program Fees Includes: airfare, accommodation, some meals, ground transportation, entrance fees, emergency medical insurance, and miscellaneous expenses. For a detailed budget, please click the "Budget Sheet" link above.

*Fees are subject to change due to exchange rate fluctuations and the number of participants.

Total cost is ESTIMATED and is BEFORE scholarships.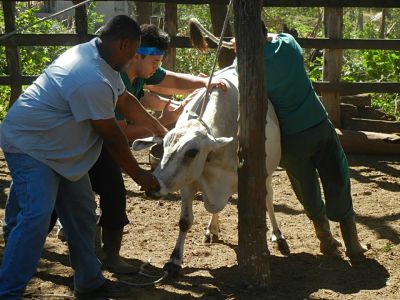 (Back to top)
---
Financial Aid and Scholarship Opportunities

Financial aid can be applied to the cost of the program. The amount of financial aid that is applicable to study abroad will depend on your financial aid package. Since there are many variables that determine how your financial aid package applies to study abroad, it is best that you consult with the study abroad financial aid advisor in the Office of Student Financial Aid to discuss your individual financial aid package. Their email and more information on Financial aid can be found at academics.aces.illinois.edu/study-abroad/financial-aid

Eligible students may receive additional scholarships toward the program cost. The amount varies depending on the program destination. Scholarship amounts are announced when program fees for each program are announced. Non-ACES students should contact their college about scholarship opportunities. All participants should also apply for the Illinois for Illinois (I4I) Study Abroad Undergraduate Scholarship. For more information, go to http://studyabroad.illinois.edu/outgoing-students/costs-scholarships/.


ACES Students are eligible for additional funding through their college. The ACES Scholarship Application may have an earlier deadline than your study abroad program. Please check the ACES scholarship page for deadlines correlating to your program. More information about ACES scholarships can be found at academics.aces.illinois.edu/study-abroad/scholarships

(Back to top)
---
Withdrawal and Program Change Policy

Withdrawal Policy
All withdrawals must be made by email to the ACES Study Abroad Office. Online withdrawals without emails may result in extra charges. Please refer to the withrdawal and refund policy here: http://studyabroad.illinois.edu/outgoing-students/costs-scholarships/withdrawals/.

Change Policy
To change an application, an applicant must withdraw from the original application and start another one. To avoid confusion and double charges, all changes should be accompanied by an email to the ACES Study Abroad Office.


Passport/Visa Information

You must have a valid passport to participate on this program with at least two blank VISA pages. If you do not already have a passport, or if it needs to be renewed, you must begin that process now, even before program acceptance.

You may also be required to get a visa for your program. Please consult the host country's consulate website or a visa agency to determine whether or not a visa is required to travel to your destination country or countries. US Citizens do not require a visa at this time.

More information about passports and visas can be found at academics.aces.illinois.edu/study-abroad/passports-visas

(Back to top)
---
Application Information

Study Abroad First Steps
Read the First Steps content found on our website (http://studyabroad.illinois.edu/outgoing-students/first-steps/) or attend a First Steps Info Session in person. These resources will get you thinking about important themes to consider before selecting a program including: academics, housing, duration, location, and cost. You will learn how to research a program, understand cost (with a segment on scholarships and financial aid too), and even how to apply!

Application Process
Click the "Apply Now" button on this web page to apply. Note that you will be charged a non-refundable application fee by clicking "Apply Now".

You may only apply to one program per term. Please consider your program options carefully before beginning a new program application. Each time you click "Apply Now" you will be charged a non-refundable application fee.

Application Components
Program applications vary. All ACES-sponsored, faculty-led course abroad may applications include:
Photocopy of Passport or receipt verifying application or renewal of passport

Signature verification form (downloadable from your online application)

Essay questions

Online questionnaires and online signature documents

May require a Letter of recommendation – done electronically (must me an academic advisor, professor, or TA)
Deadlines
All requirements must be completed by the Study Abroad Office deadlines: online materials are due by 11:59 PM on the deadline date; paper materials are due by 4:45 PM the following business day. The Study Abroad Office reviews program applications as a batch after the deadline has passed. The decision dates listed below indicate the earliest possible date that a student's application may be reviewed. Most decisions will be released two to three weeks after each deadline.

(Back to top)
---
Health, Safety, Pre-Departure

Health and Safety
The health and safety of students abroad is something that the University of Illinois takes very seriously, which is why the Study Abroad Office provides services that range from international insurance coverage to a 24-hour phone line to speak to the UIPD who will connect you to a security professional on campus. These services can be found at http://international.illinois.edu/resources/safety-security/index.html.

Once you have been accepted into the program you may need to get a health consultation at McKinley Health travel and immunization unit (mckinley.illinois.edu/medical-services/immunization-allergy-travel-clinic) to discuss what immunization you need, get a travel kit, etc. See also www.cdc.gov/travel.

Pre-Departure Resources
The UIUC Study Abroad website (studyabroad.illinois.edu/before-you-go) and the ACES Study Abroad website (academics.aces.illinois.edu/study-abroad/current-students) both provide a variety of pre-departure information. Explore both sites for information such as what to pack, money abroad, transportation, communicating with family members while abroad, and even what to do the day of your departure.

(Back to top)
---
Contact Information
Faculty Advisor
Laura Davis
Animal Sciences Laboratory
1207 W. Gregory
Urbana Illinois 61801
lkdavis2@illinois.edu
ACES Academic Programs
123 Mumford Hall
Urbana, IL 61801
Phone: (217) 333-3380
Email: aces-studyabroad@illinois.edu

Walk-in hours: 2-4pm Tuesdays and Thursdays and 9:30-11:30am Wednesdays.



Noticed an error on this page?

Let us know here.
Term

Year

App Deadline

Decision Date

Start Date

End Date

Winter Study Tour

2017-2018

09/15/2017

10/02/2017

01/02/2018

01/11/2018


Indicates that deadline has passed