Programs

Brochure
This page is the brochure for your selected program. You can view the provided information for this program on this page and click on the available buttons for additional options.
ACES in Sierra Leone: Global Health & Nutrition
Njala, Sierra Leone
(Outgoing Program)
ACES in Sierra Leone at Njala University
Spring Semester Program
Global Health: Nutrition, Water and Sanitation
Njala University, Sierra Leone

LATE APPLICATIONS WILL BE ACCEPTED FOR SPRING 2018
For more information email aces-studyabroad@illinois.edu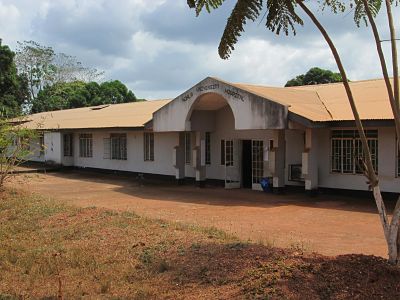 Quick Links
Program Overview
City of Njala
Academic Environment
Program Cost
Financial Aid and Scholarships
Withdrawal Policies or Change Programs
Passport/Visa Information
Application Process
Pre-Departure Resources
Contact Information
---
Program Overview

The Global Health, Nutrition, Water and Sanitation Program is the opportunity of a lifetime for students to learn about global health while experiencing and living in a rich West African culture. The program is part of a historical collaborative effort between the University of Illinois and Njala University in Sierra Leone. Some courses will be co-taught by faculty from Njala and Illinois and some courses will also include Njala University's honors students. Through coursework, field excursions, and an internship, this program puts you in direct contact with the social and economic realities of communities working to improve public health in Sierra Leone. For more information, please reference the following flier: Sierra Leone Global Health and Nutrition Semester Flier_March_4.pdf.

This program is open to students of all backgrounds and will most appeal to students with interests in these areas:
· African Studies
· Agricultural and Consumer Economics
· Community Health
· Food Science and Human Nutrition
· Human Development & Family Studies
· Business Administration
· Engineering
· Global Studies
· Natural Resource and Environmental Science
· Pre-med and Pre-Vet
· Earth Systems, Society, and Environment

The coursework is designed to enhance your experience of living in Sierra Leone, providing both theoretical and practical insight to assist you in making sense of the complexities surrounding public health and development in a West African context. All of the program courses have direct equivalents to courses taught at UIUC Departments and all of the courses are pre-approved for UIUC credit at varying levels.
Excursions are built into each course to introduce you to different parts of Sierra Leone and provide first-hand exposure to many of the topics covered in class. Courses will run in two to four week blocks. Students earn 16-18 hours of credit and will select their courses from the following list:

· International Nutrition Policies and Programs
· Food Fortification for Improved Nutrition
· ENG 315/ANSC 398/AGED 310: Service Learning in Community – Public Health Education Service Project with Scientific Animations Without Borders
· Introduction to Epidemiology
· Agriculture, Nutrition and Health Linkages in West Africa
· History, Development and Culture of Sierra Leone (Non-Western Humanities credit for ACES, ENG and students)
· Public Health Leaders in Residence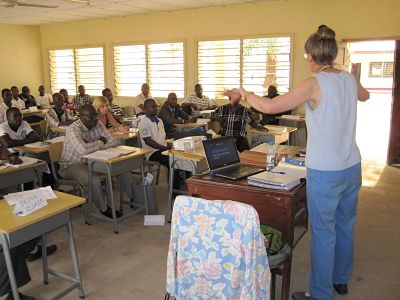 In addition to completing these courses, you will be placed in groups with Njala students to participate in a service learning project which will run for most of the semester. The course is designed to meet the requirements of ENG 315. The project is still to be determined but may include project assessments for NGOs or informational videos on water quality and sanitation issues.

After the course work portion of the program is complete, you will intern at a local organization for five to six weeks. Internship placements may include health clinics, nutrition-oriented NGOs, or environmental research labs. These internships afford you the opportunity to apply some of the concepts learned from the coursework to a real life setting.

Courses will cover topics in international nutrition and global health issues and will be taught by faculty or academic professionals from University of Illinois (or another US University) and faculty from Njala University.
Eligibility
To participate in the program you must be a UIUC sophomore, junior, or senior with a GPA of at least 2.5. This program is open to students of all backgrounds and will most appeal to students with interests in these areas:

Additional Resources
---

The City of Freetown

Freetown is the capital and largest city of Sierra Leone. It is a major port city in the Atlantic Ocean and is located in the Western Area of Sierra Leone. Freetown is Sierra Leone's major urban, economic, financial, cultural, educational and political center. The population of Freetown is estimated at 1.2 million. The city's economy revolves largely around its harbor - occupying a part of the estuary of the Sierra Leone River in one of the world's largest natural deep water harbours.

As the capital of Sierra Leone, Freetown, is home to the Sierra Leone House of Parliament, the Supreme Court of Sierra Leone and the State House, the official workplace of the President of Sierra Leone. All of the foreign embassies in Sierra Leone are based in the city.

Freetown is one of Sierra Leone's six municipalities and is locally governed by a directly elected city council, headed by a mayor. The mayor and members of the Freetown city council are directly elected every four years by the residents of Freetown. The municipality of Freetown is politically divided into three regions: East End Freetown, Central Freetown, and West End Freetown, which are subdivided into wards.

The population of Freetown is ethnically, culturally, and religiously diverse among Muslims and Christians. The city is home to a large population of all of the country's ethnic groups, with no single ethnic group forming a majority. As in virtually all parts of Sierra Leone, the Krio language is the city's primary language of communication and is by far the most widely spoken language in the city.

The city of Freetown was founded in 1792 by Abolitionist John Clarkson as a land for freed African American slaves, called the Nova Scotian who had fought on the side with British during the American Revolutionary War. The settlers called their new settlement Freetown, as a land for freed slaves. Around 500 Freed Jamaican slaves made the journey to Freetown in 1800 through the Sierra Leone Company. During the next decades, thousands of freed African American, West Indian and Liberated Africans came to Freetown as settlers, through the Sierra Leone Company. Their descendants are known today as the Sierra Leone Creole people.
---

Academic Environment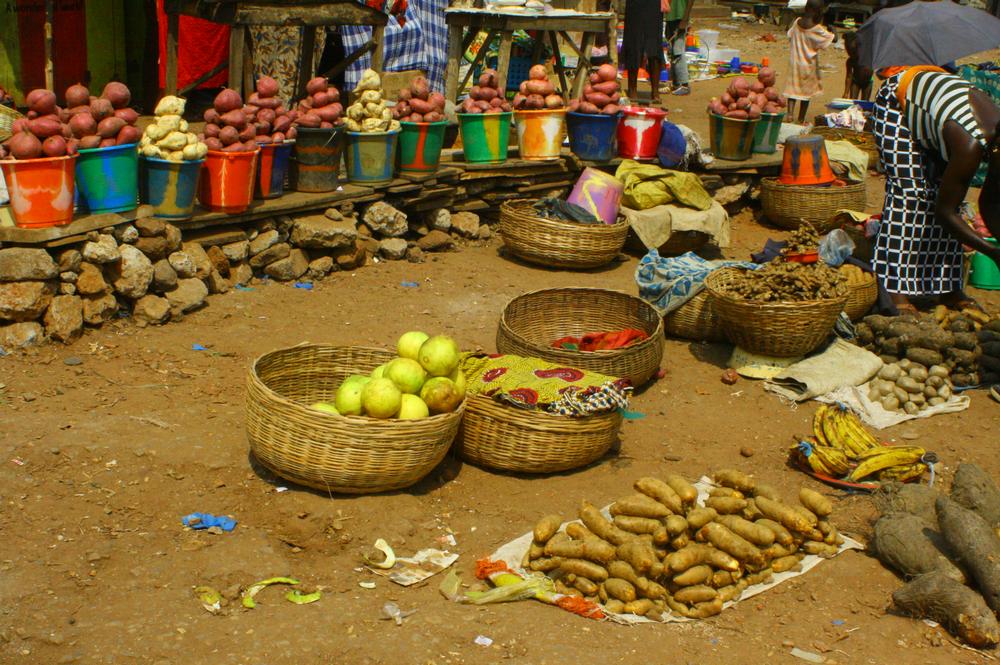 Where you will study
Njala University was established in 1964 with assistance from the United States Agency for International Development (USAID) and the University of Illinois. Njala University College was moved from rural Njala to urban Freetown in 1994. The University has responded well to the challenges that it faces, and has grown to become among the leading Universities in Sierra Leone.

Courses
For a listing of courses offered that already have Illinois equivalencies, go to my.aces.illinois.edu/login.asp?/studyabroadcourses/index.asp
Language
The official language of Sierra Leone is English. Other major languages include, Mende (principal vernacular in the south), Temne (principal vernacular in the north) and Krio, an English-based Creole, spoken by the descendants of freed Jamaican slaves who were settled in the Freetown area.

Accommodation
You will stay in student housing with students from Njala's graduate programs. Meals will be provided by staff from the Njala University Guest House.You will also participate in a variety of field trips and study excutsions, some of which will be overnight. Overnight accomodations on field trips range from sleeping in mosquito nets on sleeping pads in tropical forests to guest houses and tourist hotels.

(Back to top)
---
Program Cost and Advance Fees

For an Unofficial Budget of this program, please scroll to the top of this page and find the box labeled "Budget Sheets" and click on the semester during which you want to participate. Please read through the Unofficial Budget information which also includes information on Financial Aid and Scholarships.

See Budget Sheets at the top of this page!

(Back to top)
---

Financial Aid and Scholarships

Financial aid can be applied to the cost of the program. The amount of financial aid that is applicable to study abroad will depend on your financial aid package. Since there are many variables that determine how your financial aid package applies to study abroad, it is best that you consult with the study abroad financial aid advisor in the Office of Student Financial Aid to discuss your individual financial aid package. Their email and more information on Financial aid can be found at academics.aces.illinois.edu/study-abroad/financial-aid

Eligible students may receive additional scholarships toward the program cost. The amount varies depending on the program destination. Scholarship amounts are announced when program fees for each program are announced. Non-ACES students should contact their college about scholarship opportunities. All participants should also apply for the Illinois for Illinois (I4I) Study Abroad Undergraduate Scholarship. For more information, go to www.studyabroad.illinois.edu/scholarships

ACES Students are eligible for additional funding through their college. More information about ACES scholarships including the application can be found at academics.aces.illinois.edu/study-abroad/scholarships.

For more information about general costs, please watch the First Steps Cost, Financial Aid, and Scholarship videos found here for tips and advice: studyabroad.illinois.edu/before-you-start

(Back to top)
---

Withdrawal, Change, and Cancellation Policy

To change to a different program during the application process, please e-mail aces-studyabroad@illinois.edu.

To withdraw or cancel your participation in a study abroad program, please visit this link to view the Withdrawal and Refund Policy (academics.aces.illinois.edu/study-abroad/policies)

(Back to top)
---

Passport/Visa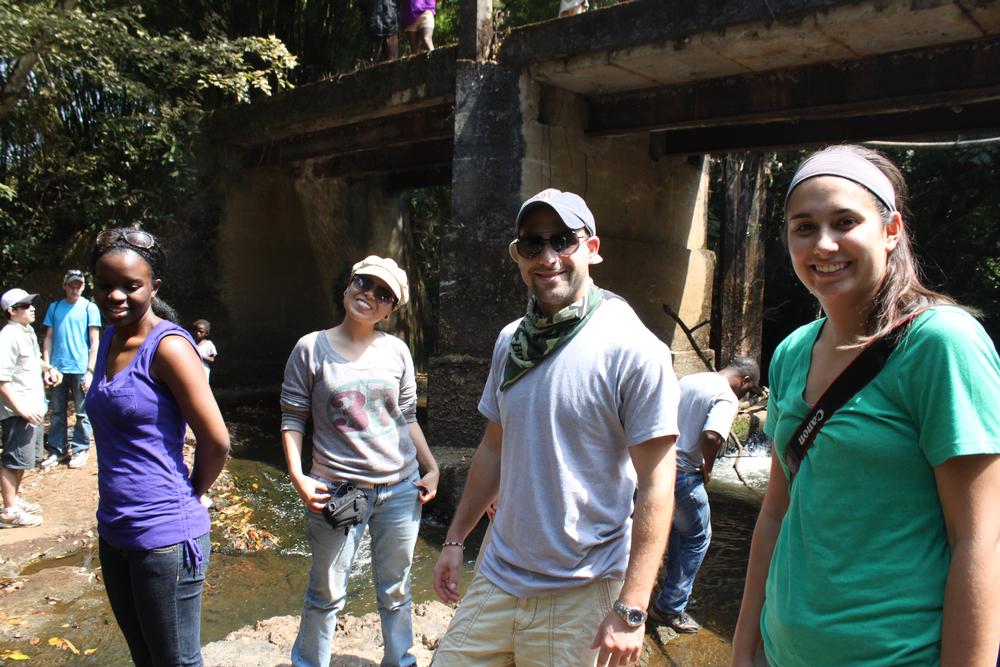 You must have a valid passport to participate on this program with at least two blank VISA pages. If you do not already have a passport, or if it needs to be renewed, you must begin that process now, even before program acceptance.

You may also be required to get a visa for your program. Please consult the host country's consulate website or a visa agency to determine whether or not a visa is required to travel to your destination country or countries.

More information about passports and visas can be found at academics.aces.illinois.edu/study-abroad/passports-visas

(Back to top)
---
First Steps Info Session
Watch the First Steps videos found on our website www.studyabroad.illinois.edu/before-you-start or attend a First Steps Info Session in person. These resources will get you thinking about important themes to consider before selecting a program including: academics, housing, duration, location, and cost. You will learn how to research a program, understand cost (with a segment on scholarships and financial aid too), and even how to apply!

Application Process
Click the "Apply Now" button on this web page to apply. Note that you will be charged a non-refundable application fee by clicking "Apply Now".

You may only apply to one program per term. Please consider your program options carefully before beginning a new program application. Each time you click "Apply Now" you will be charged a non-refundable application fee.

Application Components
The Study Abroad Office Application may include:
Letter of Recommendation - done electronically (must be an academic advisor, TA, or professor)

Personal essay questions

Photocopy of passport

Signature verification form

Official Transcript

Online questionnaires
After you are accepted into your program by the Study Abroad Office, you may be required to complete post-decision components such as the host university's application.

Deadlines
All requirements must be completed by the Study Abroad Office deadlines listed below. Online materials are due by 11:59 PM on the deadline date while paper materials are due by 4:45 PM the following business day. The Study Abroad Office reviews program applications as a batch after the deadline has passed. The decision dates listed below indicate the earliest possible date that a student's application may be reviewed. Most decisions will be released two to three weeks after each deadline.

(Back to top)
---
Pre-Departure Resources

The UIUC Study Abroad website (studyabroad.illinois.edu/before-you-go) and the ACES Study Abroad website (academics.aces.illinois.edu/study-abroad/current-students) both provide a variety of pre-departure information. Explore both sites for more information on the topics below or logistics such as travel plans and what to pack.

Pre-Departure Course, LAS 291 1 credit
All students are required to enroll in a second 8 weeks pre-departure course, LAS 291 for 1 credit. During this course, topics such as culture shock, health and safety scenarios, and other helpful pre-departure information will be presented.

Course Approval
Before you study abroad you must get the courses you plan to take abroad approved by your college's study abroad office. ACES Students should view the "Academic Information" section of the ACES Study Abroad Website. This section provides information on the course approval process and a link for the pre-approval database which contains all courses with UIUC course equivalents.

Health and Safety
The health and safety of students abroad is something that the University of Illinois takes very seriously, which is why the Study Abroad Office provides services that range from international insurance coverage to a 24-hour phone line to speak to an Advisor on Duty.

Students will be expected to obtain an anti-malarial drug, ensure their other required immunizations are up to date, and take safe travel precautions regarding water and mosquitoes while on the trip. Once you have been accepted into the program, you must complete a travel health consultation from your personal physician

Health and Safety of our students while in Sierra Leone is an important concern to us. Students with serious medical conditions should review the following statement from the Overseas Security Advisory Council (OSAC) before applying to the program.

From: https://www.osac.gov/pages/ContentReportDetails.aspx?cid=12005
Medical facilities in Sierra Leone fall critically short of U.S. standards. People with serious medical conditions that require medications or frequent treatment are discouraged from traveling to Sierra Leone. Most medications are in short supply, of inferior quality, or are fraudulent. The cleanliness of medical facilities and quality of treatment is dismal. Misdiagnosis, unavailable treatment, and improper use of drugs are commonly reported.
All travelers to Sierra Leone are advised to purchase insurance to cover medical evacuation in case of a serious accident, injury, or illness.* Medical evacuation can cost tens or hundreds of thousands of dollars, depending on the severity of the situation, so all travelers should ensure their policies provide sufficient coverage. Travelers are advised to see a physician prior to travelling to ensure that appropriate immunizations and precautions are taken, including medications for malaria prophylaxis and yellow fever vaccination (which is required for entry into the country). Please refer to the Center for Disease Control's website (www.cdc.gov) for recommendations specific to Sierra Leone.

*University of Illinois students who participate on this program will automatically be enrolled in medical insurance to cover medical evacuation.

The Consular Section maintains a more complete list of medical contacts at
http://freetown.usembassy.gov/list_of_local_doctors_and_hospitals6.html

(Back to top)
---

Contact Information

Illinois Faculty Leaders to Sierra Leone
Paul E. McNamara, mcnamar1@illinois.edu
or Oliver Ferguson, ofergus@illinois.edu

ACES Study Abroad
123 Mumford Hall, MC-710
Urbana, IL 61801
Phone: (217) 333-3380
Email: aces-studyabroad@illinois.edu

Walk-in hours: 2-4pm Tuesdays and Thursdays and 9:30-11:30am Wednesdays.

Noticed an error on this page? Let us know here.

(Back to top)
Term

Year

App Deadline

Decision Date

Start Date

End Date

Spring Semester

2018

11/01/2017

11/01/2017

01/08/2018

05/27/2018


Indicates that deadline has passed