Programs

Brochure
This page is the brochure for your selected program. You can view the provided information for this program on this page and click on the available buttons for additional options.
ADV/SAO Course Abroad: ADV 399: Place Branding in Edinburgh & London (summer)
Edinburgh, United Kingdom;
London, United Kingdom
Program Terms:
Summer

Restrictions:
Illinois applicants only
Budget Sheets
Summer

Advertising 399
Place Branding in Edinburgh & London

Spring/Summer 2014 Faculty-Led Program
Sponsored by the Dept. of Advertising and the Study Abroad Office

On Campus Class Meetings: Tuesdays from 9:30am to 10:50am
Program Dates Abroad: May 19 to May 29, 2014

NEW Application Deadline: January 22, 2014

---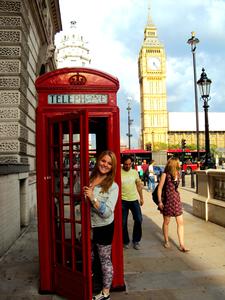 Course Description

This course will study principles and practices associated with branding "places". Students will learn how things such as geography, people, media, history, culture, business and sports are used to create global identities in the international marketplaces specifically in Edinburgh and London.

By looking at both the perceptions and realities of consumption "experiences" associated with towns and cities, students will develop their own strategic point of view on how they think "places" should be branded. This will help prepare students for the challenges and opportunities related to marketing and advertising in global markets. It will also enable students to experience the cultural diversity of both Edinburgh and London.

Included in the course are historical, cultural, and sports immersion activities, interactive sessions with communication professionals and/or organizations, field study, group leadership activities, intra-group discussions, and final project.

Learning Objectives
In this course, students will examine and learn how "places" use media, geography, people, history, business, culture, and sports to brand themselves in the context of a global marketplace - with a particular focus on tourism experiences. At the end of this course students should be able to:
Understand major concepts related to place branding.

Research, analyze and discuss how information sources create brand perceptions of places, then investigate, evaluate and discuss the actual brand experience associated with those places.

Identify how visitors seek out information, receive information and are advised to "consume" or "experience" in other countries.

Analyze how historical, cultural, geographic, and sports-related sights, locations, activities, or businesses are used to communicate unique brand identities.

Assess differences in advertising agency culture in various locations.

Develop and present a strategic point-of-view on what leaders should be communicating as "place" brands –their brand stories – utilizing multimedia.
In order to compare what travel literature and place branding strategies might be, given pre-conceived notions, students must visit those places and determine their chosen strategies and tactics, to be delineated in an individual project.

Group Flight: As part of the Program Fee, the Study Abroad Office will organize a group flight for this course, as long as there are more than 10 participants. The group flight is MANDATORY. All group flights will be departing from and arriving at Chicago O'Hare Airport.

(Back to top)

---
This course is three credits total and will be applied towards the spring 2014 semester. The on campus class meetings that will take place during the last 8 weeks of the spring 2014 semester make up 1 out of the total 3 credits, and the abroad portion will make up 2 out of the total 3 credits.

On-campus meetings: Tuesdays from 9:30-10:50am

Program dates: May 19 to May 29, 2014
*Program dates and fees are subject to change due to exchange rate flucations and number of participants.
---
Program Eligibility

Participation requirements: only University of Illinois undergraduates
Language of instruction: English

(Back to top)

---
Program Logistics

Housing: Hotels

Meals: Most meals on own

Major transportation: As part of the Program Fee, the Study Abroad Office will organize a group flight for this course, as long as there are more than 10 participants. The group flight is MANDATORY. All group flights will be departing from and arriving at Chicago O'Hare Airport. Students will leave Chicago O'Hare on 5/19 and arrive in Edinburgh on 5/20. Students will take a train from Edinburgh to London on 5/23. Departure out of London and arrival back to Chicago O'Hare will be on 5/29.

(Back to top)

---
United Kingdom Country Info

News Sources

Travel Info
---
Application Information

Application Process
Apply for this program through the Study Abroad Office. In order to determine if program expenses will be Financial Aid eligible, please contact the Office of Student Financial Aid at 217-333-0100 as soon as possible. All participants are expected to adhere to the policies and procedures of the University of Illinois Study Abroad Office.

Click the "Apply Now" button on this web page to apply. Note that you will be charged a non-refundable $25 application fee by clicking "Create App."

You may apply to only one program per term. Please consider your program options carefully before beginning a new program application, as you will be charged a non-refundable $25 application fee each time you begin a new program application by clicking "Create App."

Application Components
Program applications vary. All SAO-sponsored, faculty-led course abroad applications include:
Unofficial Illinois transcript (not required for first semester Freshmen) (can upload to appliation online)
Photocopy of Passport or receipt verifying application or renewal of passport (can upload to your application online)
Signature verification form (downloadable from your online application)
5 short-answer essay questions
Online questionnaires and online signature documents
Note: NO letters of recommendations are required for SAO-sponsored, faculty-led courses abroad
Applications and supporting documents must be submitted by the deadlines established by the Study Abroad Office for timely review. The Study Abroad Office reviews program applications as a batch after the deadline has passed. The decision dates listed below indicate the earliest possible date that a student's application may be reviewed. Most decisions will be released two to three weeks after each deadline.

(Back to top)

---
Program Fees
If the Study Abroad Office nominates or accepts you to the study abroad program you have applied for, the Study Abroad Office will bill your Illinois student account a non-refundable $605 advance fee. This fee will be deducted from the final cost of your program fees; however, please note that this fee is not refundable should you decide to withdraw from the study abroad program.

2014 PROGRAM FEE: estimated $4,000-$4,400

*Fees are subject to change due to exchange rate fluctuations and the number of participants.

Total cost is ESTIMATED and is BEFORE scholarships.

Program Fee Includes (billable costs): International airfare (Chicago-Edinburgh & London-Chicago), housing (hotels) and some group meals, on-site transportation (including airport pick up and drop off on site and train from Edinburgh to London), various program excursions and activities in Edinburgh and London, SAO and ADV admin fees, and international insurance.

Program Fee Does NOT Include (non-billable costs): most meals (est. $500) and personal expenses (est. $250)

TOTAL including off-budget expenses and program fee: estimated $4,750-$5,150

(Back to top)

---
Scholarship Opportunities
Students should contact their college about scholarship opportunities. All participants should also apply for the Illinois for Illinois (I4I) Study Abroad Undergraduate Scholarship. For more information on I4I and other scholarships, click here.

(Back to top)

---
Withdrawal Policy
All withdrawals must be made by email to the Study Abroad Office. Online withdrawals without emails may result in extra charges. Withdrawal by 5:00 pm on January 3, 2014 loses only the $25 application fee. Withdrawal after having been accepted to the program loses the $605 advance payment. After committing to the program, the student is responsible for all costs incurred.
Change Policy
To change an application, an applicant must withdraw from the original application and start another one. Such withdrawals will lose the original $25 application fee. To avoid confusion and double charges, all changes should be accompanied by an email to the Study Abroad Office.
Cancellation Policy
If a student is denied, they lose only the $25 application fee. If the University of Illinois cancels a program, the student loses the application fee but will receive a full refund of the advance payment and any other billed expenses.

(Back to top)

---
Passport/Visa Information
You must have a valid passport to participate on this program. If you do not already have a passport, or if it needs to be renewed, you must begin that process now, even before program acceptance.

You may also be required to get a visa for your program. Please consult the host country's consulate website or a visa agency to determine whether or not a visa is required to travel to your destination country or countries.

(Back to top)

---
Contact Information
For any questions you may have or for more detailed information on the program, please contact Rhiannon Clifton or Linnea DiBerardino in the Department of Advertising or Kara Porter in the Study Abroad Office (SAO). The SAO is located at:

910 S. Fifth Street
112 International Studies Building
Champaign, IL 61820
217-333-6322
Hours of operation: Monday through Friday from 9:00am to 4:45pm. We are closed on holidays and when classes are not in session.

(Back to top)
Term

Year

App Deadline

Decision Date

Start Date

End Date

Summer

2014

01/22/2014

01/23/2014

05/19/2014

05/29/2014


Indicates that deadline has passed