Programs

Brochure
This page is the brochure for your selected program. You can view the provided information for this program on this page and click on the available buttons for additional options.
Spend a year immersed in Japanese language, culture, and life.
AY2014-15 Year in Japan INFORMATION MEETING:
October 24, 2013 at 2009b (Foreign Language Building ) at 4pm
A Year-in-Japan has been administered by the University of Illinois at Urbana-Champaign since 1975, is an intensive Japanese language and Japan Studies courses taught in English in Kobe, twenty minutes from Osaka and an hour from Kyoto, the classical capital of Japan.
This Program at a Glance:

an index of the information you will find on this page
1. Ideal students for this Program
2. What you will study
3. Credits you will earn
4. Where you will study & live
5. Resident Director on site
6. Housing
7. Eligibility
8. Program Cost
9. Financial Aid and Scholarships
10. Dates and Deadlines
11. How to apply
12. Contact us for more information
1. Ideal students for this Program
The Year in Japan Program is open to students of all majors and will most appeal to those who have one year of Japanese language study or the equivalent before entering the Program. Students who will take Japanese 201/202 over the summer next year as well as those who graduate in the spring preceding their year abroad can also apply.
2. What You Will Study:
The Year in Japan Program begins in early September and ends in May. During each of the two 15-week semesters, you will take an intensive course in Japanese language and two courses in Japanese studies classes such as art history, sociology, anthropology, business, religion, literature, law, economics, etc. that will introduce you to Japanese history, culture and society. The courses are taught by the resident director, faculty at Konan University, and American scholars residing in Japan.
Three Field Trips
Classroom instructions are supplemented by three field trips (two to three days) that explore the rich cultural and historic heritage in Japan. You will visit such historic and cultural sites as Ise, Mt. Koya, Hiroshima, and the ancient capitals of Kyoto and Nara.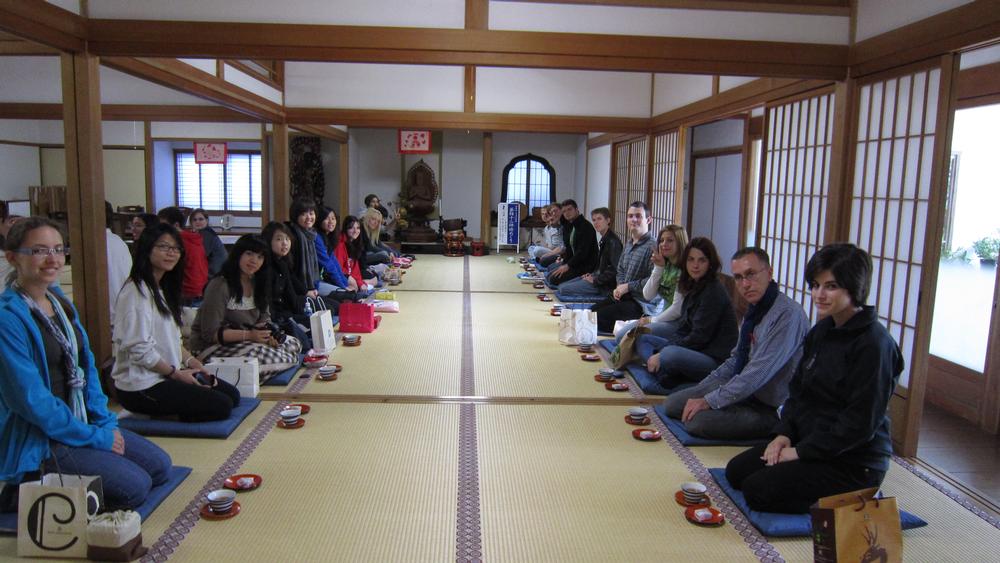 Academic Calendar(subject to change)
September 11

Depart for Japan
Jan 18

Spring classes begin
September 8-10

Orientation
Apr 29- May 5

Spring Break
September 13

Fall classes begin
May 23 Spring semester ends
Dec 23-Jan 5

Winter Break
May 20

Program ends
Jan 14

Fall classes end
3. Credits You Will Earn
Students who complete the Year-in-Japan Program earn two semesters of full academic credit for their courses.
Japanese credit complete through YIJ may count as departmental residential advanced hours if evaluated as upper division course work. Such credit may be applied toward a minor, major, or double major in EALC, or may count as supporting coursework in other fields.
Minimum required major and supporting course work for EALC major normally equates to 37 to 57 credit hours. Click here for learning how the Year in Japan Program work to declare EALC (Japanese) Major/Minor
Courses taken in this program are considered academic residence courses; however, a student still has to fulfill physical residency requirements on the UIUC campus to obtain a University of Illinois degree. Those students who may have transferred to UIUC, in their junior year, to complete the undergraduate degree, should check with their respective advising office for residency policies that apply to them.
4. Where you will study and live
Konan University is a small private liberal arts university of 10,000 students located in Kobe in the Kansai region of Japan. Kobe is the sixth largest city in Japan with a population of 1.5 million. It is a bustling port city rimmed by the majestic Rokko Mountains. Konan University is 20 minutes from downtown Kobe, 40 minutes from downtown Osaka, and an hour and a half from Kyoto and Nara, the ancient capitals of Japan.

Students enrolled in the Year-in-Japan Program (housed in Konan International Exchange Center) are made to feel welcome at Konan University. Students are encouraged to join the university's many sports, music, special interest, and social clubs.
5. Resident Director on site
The Resident Director is on site for you! The 2014-15 Director is from University of Hawaii. The Resident Director gives any necessary help and academic advice to the program participants during the stay, teaches one of the courses as one of the Japanese studies faculty members, and joins the field trips with students.
6. Housing: Homestay
You will be matched with a host family for your stay in Japan. The Program selects a family for your based on your answers to a housing questionnaire that you will receive following your acceptance to the Program. Life with a host family is likely one of the most valuable experiences that you will have in Japan. This is a key opportunity to experience an intimate side of how people in Japan live their lives. You know the real Japan. In addition, life with a new family in a new place challenges you to develop your communication skills, flexibility, and patience with both others and yourself. Past participants highly evaluate this. During your stay, you will have your own room and enjoy morning and evening meals with your host family.
7. Eligibility
Average GPA is 3.00. Applicants also need to complete two semesters or the equivalent of language study before leaving for Japan.
8. Program Cost:
Scroll to the top of this page and find the box labeled "Budget Sheets," then click the link.
9. Financial Aid and Scholarships.
Because this Program is administered by the Department of East Asian Languages and Cultures at the University of Illinois at Urbana-Champaign, financial aid can be applied to the cost of the Program. The amount of financial aid that is applicable to study abroad will depend on your financial aid package. Since there are many variables that determine how your financial aid package applies to study abroad, it is best that you consult with a financial aid advisor in the Office of Student Financial Aid to discuss your individual financial aid package.

In addition to financial aid, JASSO and HUMAP scholarships are available to the Program participants through the Year in Japan Program up to around $8,000. Students who do not receive above these scholarships will receive some scholarship support from Konan University. There are other scholarships available such as Freeman, Bridging and Gilman, etc. Click here to learn more about scholarship opportunities.

10. Application Deadline
Priority Deadline: Jan 15, 2014 (those who have applied for the program by the 15th of Jan will be given a priority over the acceptance for the program).
Final Application Deadline: February 15, 2014
11. How to Apply
Please click

Apply Now

above to apply.

(OR go to UIUC study abroad website and find "EALC" program.)

Note that you will be charged a non-refundable $25 application by clicking Apply Now

All applications include, at the minimum:

(1) Latest (fall semester) official transcript

(either "E-transcript" to onosaka@illinois.edu or physical one to the address below)

(2) TWO Letters of recommendation: (one is through online and the other is a physical letter (see below)

Letter 1: One should be available online. A recommender can access the form once you put his/her e-mail address in the onlin-application.

Letter 2: The other recommender should be your language teacher and she/he must use a Recommendation Form.pdfclick here for download)

(3) On-line material submissions and questionnaires: You will get them once you click "

Apply Now

" above to apply.
There are some documents available on-line which need to be turned in to Junko Onosaka including "Signature Form" and the "Year in Japan Program Application Forms."
All materials must be submitted to
Dr. Junko Onosaka
Department of East Asian Languages & Cultures
2014 Foreign Language Building (Office Hours: Tuesdays from noon to 2pm, and Wednesdays from 9 to noon) or 2090A (mailbox) Foreign Language Building
After applying for the Program, you will be asked to meet the Program Coordinator (Dr. Junko Onosaka) and selection committee faculty members before or after the Deadline.
Decisions will be announced in mid March.
Non-U of I students
will be required to submit an additional application to be admitted to UIUC as a non-degree student for the study abroad program and pay an additional application fee of $40.
12. Contact us for more information
Dr. Junko Onosaka onosaka@illinois.edu
University of Illinois
Department of East Asian Languages & Cultures
2090 A Foreign Language Building
707 South Mathews
Urbana, IL 61801
(217) 244-4012
Term

Year

App Deadline

Decision Date

Start Date

End Date

Academic Year

2014-2015

02/15/2014

03/03/2014

TBA

TBA


Indicates that deadline has passed