Programs

Brochure
This page is the brochure for your selected program. You can view the provided information for this program on this page and click on the available buttons for additional options.
Kobe, Japan
(Outgoing Program)
YEAR-IN-JAPAN PROGRAM


-----The Illinois Center in Japan-----
(New)

Spring (Jan to May), Summer (Early-June to Mid-July),


(New)

Fall (Sept to May) or Academic Year (Sept 2017- May 2018) program


Available for Any Majors
No Japanese Language Prerequisite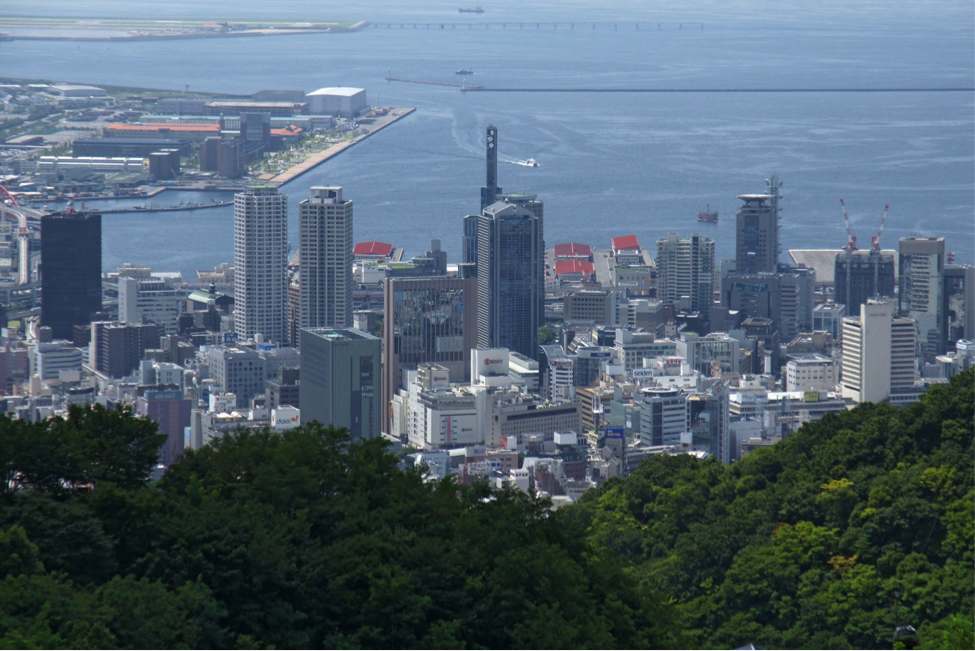 Program Overview
Students who choose to study in Kobe (Konan University) want something different. They thought about studying in Tokyo but want an alternative perspective. They recognize the presence and influence of Japanese culture not only in the U.S. but also in the world, and they recognize the personal and professional growth that will come from learning more about Japanese culture, language and society. They know that they will benefit from studying in a school with small class sizes, a strong support network and the Resident Director from University of Illinois at Urbana-Champaign for AY2016-2017 (and other American consortium universities after 2017). And they know that they will put their academic and interpersonal skills to test in a program site with caring host families, diverse volunteering opportunities, and very few English speakers. They know they can't know real Japan if they live in a dormitory or an apartment. They know their host families are patient to their Japanese so that they can improve their Japanese every day in natural settings.
You can study abroad at Konan University in Kobe during *Summer (early June to mid July), Fall (Sept to early-January), Spring (mid-January to May) or the academic year (September to May).
As for the Summer in Japan Program, go to the Summer in Japan site.
See this Program introduction video (below) from a welcome party with host families to a daily campus life in Japan!


Table of Contents
1. What is an Illinois Center?
2. Academic Environement and the City of Kobe
3. Credit/Courses
4. Onsite Support
5. Accommodation: Homestay
6. What students say about the Program
7. Eligibility
8. Program Cost & Scholarship
9. Application Information
(1) Application Components
(2) Application Deadline
(3) Applicatin Process
10. Withdrwal, Change and Cancellation Policy
11. Passport/Visa information
12. Health, Safety and pre-Departue Orientaion


Learn more visiting our homepage!!

What is the Illinois Centers?
Located in various countries around the world, Illinois Centers for Global Learning and Engagement represent the premier sites for study abroad developed by the University of Illinois over the past forty years. At each Center, you encounter a personalized and guided learning experience introducing you to new languages, cultures, and academic areas.
The Illinois Center in Japan is the "Year in Japan Program" which has been administered by the University of Illinois at Urbana-Champaign for 40 years. 600 students participated in the Year in Japan Program and many of them are working in Japan or worldwide (Check out what YIJ alumni say about the Program) .
(Back to top)

Academic Environment & the City of Kobe



Kobe is located in the Kansai area, the middle part of Japan which includes Kyoto, Nara, and Osaka. It is the sixth largest city in Japan with a population of l.5 million and is an international port city. It is a bustling port and popular city rimmed by the majestic Rokko Mountains. Konan University is 20 minutes from downtown Kobe, 40 minutes from downtown Osaka, and an hour and a half from Kyoto and Nara, the ancient capitals of Japan.


Combining the new and the old, this area of Japan provides a stimulating backdrop for the study of Japan. Students will be able to visit all eleven
sites by themselves with very modest cost because Kobe is the center of western Japan. Himeji castle next to Kobe is the most famous and
beautiful castle in Japan.


Students enrolled in the Year-in-Japan Program (housed in Konan International Exchange Center) are made to feel welcome at Konan University. Students are encouraged to join the university's many sports, music, special interest, and social clubs.
The program was established in 1976 on the campus of Konan University and has served over 600 students from a number of different American universities. The program is administered by the Department of East Asian Languages and Cultures at the
University of Illinois at Urbana-Champaign for a consortium of American universities that includes the University of Arizona, the University of Hawaii-Manoa, and the University of Pittsburgh. Students from France, Germany, Canada and Australia also join the program!
(Back to top)

Credit/Courses
Students who complete the Year-in-Japan Program earn each semester of full academic credit for their courses.
Japanese credit complete through YIJ may count as departmental residential advanced hours if evaluated as upper division course work. Such credit may be applied toward a minor, major, or double major in EALC, or may count as supporting coursework in other fields.
Courses taken in this program are considered academic residence courses; however, a student still has to fulfill physical residency requirements on the UIUC campus to obtain a University of Illinois degree. Those students who may have transferred to UIUC, in their junior year, to complete the undergraduate degree, should check with their respective advising office for residency policies that apply to them.
Minimum required major and supporting course work for EALC major normally equates to 37 to 57 credit hours.
Click here "One Model of the Year in Japan study abroad course 2015.doc" for learning how the Year in Japan Program work to declare EALC (Japanese) Major/Minor

(1) Japanese Language Training----15 hours/each semester.
The Japanese language program emphasizes the development of speaking and reading skills. Language classes meet two hours per day, five days a week. Teachers are native speakers with graduate training in Japanese linguistics or the teaching of Japanese as a second language.
The Japanese program provides 4 courses from Japanese I to V, covering beginning to advanced levels. The ultimate purpose of the Japanese course is to help students communicate fluently with Japanese people in natural conversational situations. To achieve this goal, reading, writing, listening, and speaking Japanese are given equal emphasis in the course.

(2) Japan Studies Course----6 hours/each semester (Mid/Advanced level courses).
The Japanese studies courses taught in English provide a broad introduction to Japanese society and culture. Japanese studies courses each meet three hours each week. Courses change somewhat each year, but are usually offered in the following areas: Art History, Sociology, Law, Anthropology, Linguistics, Business, Religion, Economics, History, etc. For students with an adequate level of language proficiency, regular Konan University courses are also available.
Where possible, courses include field trips to relevant sites. Recently, classes have visited law courts, corporations, and the historical sites in Kyoto and Nara. Faculty for the Japanese studies courses are selected from the faculty of Konan University and from American scholars residing in Japan.
Details will be provided once you are accepted to a program, however, each year similar courses to the previous year are offered.
Click for the 2015-16 Japan Studies syllabi.pdf

(3) Class size
YIJ Program offers very personalized instruction, with classes limited to around fifteen students. Professors and local instructors will teach your courses, incorporating their academic background and life experiences into their teaching. One of the strongest components of the program is that you have the time and space to develop a connection with your instructors. The small class sizes and the friendly atmosphere of all Japan studies and Japanese language classes at Konan University allow you to feel comfortable and secure. This base of support allows you to focus your attention on making the most of your classes and improving your Japanese greatly.
Back to top

FIELD TRIPS

Three field trips (two in the fall semester and one in the spring semester) are included in the program fee. Each is a two to three days trip.
They allow students to visit several sites in western Japan. In Japan there are eleven World Cultural Heritage properties. Seven are in western Japan.
In recent years, some of the field trips have taken students to visit these UNESCO World Cultural Heritage places such as Mt. Koya, Ise, Hiroshima, Itsukushima, etc. Mt. Koya is one of Japanese most important Buddhist sites.

These field trips are educational and considered as a part of academic components of the Japanese language courses.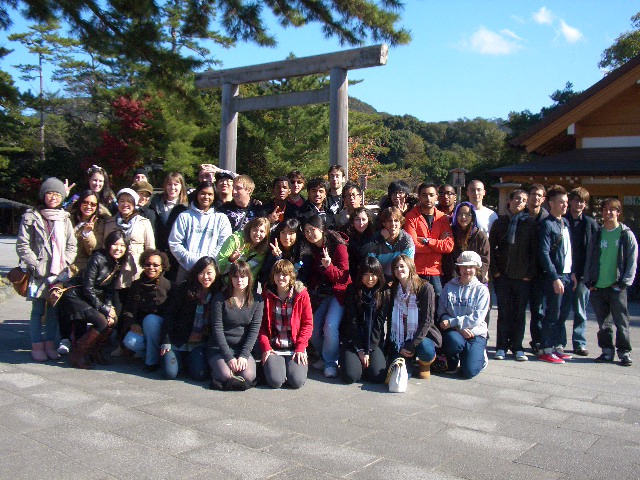 Students will be able to visit all eleven sites by themselves with very modest cost because Kobe is the center of western Japan.
You can also travel by yourself during breaks (winter, spring and national holidays). Do you want to go to Tokyo alone? Shuttle buses from Kobe to Tokyo are available every day. It starts from $30!
(Back to top)


Onsite Support
The Resident Director is on site for you!
The 2016-17 Director is Professor Brian Ruppert at the University of Illinois at Urbana-Champaign.
The Director gives any necessary help and academic advice to the program participants during the stay, teaches one of the courses as one of the Japanese studies faculty members, and joins the field trips with students.
__________________________________________________________________________________________________________
Prof. Hayashi (UUC Department of East Asian Languages and Cultures 2008-09 Director)
In 2008-09 Year-in-Japan Program hosted 51 students from the US (including 12 from University of Illinois), Canada, the UK, France, and Germany. I am happy to note as resident director that the students are all truly enjoying the opportunities to learn the language, live with a host family, become friends with Japanese college students, and explore the culture and society. The staff at Konan International Exchange Center are extremely friendly and helpful, and they make every effort to make the students' year at Konan a most fruitful and memorable one.
Kobe is one of the best places to spend a year in Japan because it is a beautiful port city with a unique combination of nature (ocean, mountains) and an urban atmosphere. Being able to easily access many cultural sites in Kyoto and Osaka is also a big advantage.
I sincerely hope that you will consider participating in the Year-in-Japan Program at Konan University. It can be a once-in-a-lifetime experience for you.





Prof. Elizabeth Oyler (UIUC Department of EALC/2012-13 Director)
Thank you very much for your interest in the Konan University Year-in-Japan Program! It's a unique opportunity to live in the heart of Japan, close to the ancient capitals of Nara and Kyoto as well as the thriving international cities of Osaka and Kobe. There's hiking in the mountains and shopping for the latest styles available just minutes from campus, and we're very close to numerous UNESCO World Heritage You can participate in campus clubs ranging from martial arts, to band, to dance: our program creates lots of opportunities for students to be part of campus life, a feature that is unusual in study-abroad programs in Japan. Check out information about additional features of our program by visiting our website: www.ealc.illinois.edu/yij or http://www.adm.konan-u.ac.jp/kiec/english/yij. You can find out more about a number of other additional features of the program: our field trips, an optional Area Studies Trip to another Asian country. We hope you will look over this information carefully and also take a look at our website as you prepare your application. I am also available to answer any questions you might have, as are your Study Abroad advisors on campus and the students from your home institution who have already participated in YIJ. Please don't hesitate to be in touch! I also wanted to draw your attention to our home stay program. Reaching back almost 40 years, YIJ's home stay program is extremely well organized and offers daily support for both students and their home stay families. All of our families are located within reasonable commuting distance from campus, and many are veterans of more than 5 years. In other words, both they and the staff at Konan are experienced and eager to help you have a fuller experience in Japan by spending the year living with a family. We will continue to work with you and your hosts to make sure your experience is as full and rich as possible. We are very happy that you are considering spending the year with us.
Prof. Oyler noted that, "It's amazing how many of the students return to Japan to visit their families again. And now, with new technology, they stay in touch all the time."

(Back to top)
Housing: Homestay










You will be matched with a host family for your stay in Japan. The Program selects a family for your based on your answers to a housing questionnaire that you will receive following your acceptance to the Program.
[Emily and hostmother] Life with a host family is likely one of the most valuable experiences that you will have in Japan. [Mich with a hostfamily]
This is a key opportunity to experience an intimate side of how people in Japan live their lives.



You know the real Japan. In addition, life with a new family in a new place challenges you to develop your communication skills, flexibility, and patience with both others and yourself. Past participants highly evaluate this.
During your stay, you will have your own room and enjoy morning and evening meals with your host family.


(Back to top)


What students say about the Program
Watch how UIUC participants spent amazing years in Japan in both English and Chinese!





"Memories: Year Video" created by a past participant.



See more YIJ alumni working in the States and Japan!

(Back to top)
Eligibility:
Average GPA is 3.00. If your GPA is below 3.00, contact Hiromi Matushita (hiromi3@illinois.edu) to discuss about eligibility.

(Back to top)
Program Cost & Scholarship:
Cost
Program cost is same to any U of I students (in-state, out of state and international students) (see above "program budget sheet.")

Scholarship
Because this Program is administered by the Department of East Asian Languages and Cultures at the University of Illinois at Urbana-Champaign, financial aid can be applied to the cost of the Program. The amount of financial aid that is applicable to study abroad will depend on your financial aid package. Since there are many variables that determine how your financial aid package applies to study abroad, it is best that you consult with a financial aid advisor in the Office of Student Financial Aid (OFSA) at 217-333-0100 to discuss your individual financial aid package. You can get a free financial aid package estimate by printing out and bringing in to OSFA either the "Program Fee" section or the "Unofficial budget" (which can be found by clicking the blue hyperlink next to "Budget Sheets" at the top of each brochure page).
In addition to financial aid, JASSO and HUMAP scholarships are available to the Program participants through the Year in Japan Program up to around $8,000. Students who do not receive JASSO/HUMAP scholarships will receive some scholarship support from Konan University. There are other scholarships available such as I4I (Illinois for Illinois),
Freeman, Bridging and Gilman, etc. Go to the Illinois scholarship page. Any questions as for financial aid at UIUC, go to the Illinois financial aid page.



(Back to top)
Application Information
Apply for this program by clicking the "Apply Now" button on the program's online brochure page to apply.
Note that you will be charged a non-refundable $50 application fee by clicking "Apply Now."

Application Components: Applications include, at the minimum:
(1) Year in Japan Program Application Form (see below)
(2) Two letters of recommendations (see below)
(3) Your latest transcript
(4) On-line questionnaires on your "My StudyAbroad."
(5) Copy of your passport (if you have)



(1)

Year in Japan Program Application Form


The Form must be all typed, printed out, signed properly and sent to the address below.
Step 1: Download FIRST and SAVE in your computer.
Step 2: TYPE IN your information and always SAVE there.
Step 3: Print them out after typing out all information.
Step 4: Turn them in to Mr. Hiromi Matsushita



(2) Two letters of Recommendation:


Students who are taking/have taken a Japanese language class at UIUC
need each of Form A

and

Form B (for language evaluation recommendation form) .

Students who have NOT taken any Japanese language classes at UIUC
need TWO Form A s.

Step 1: Download Forms AND save in your computer.
Step 2: TYPE your name in a downloaded and saved forms.
Step 3: Send the Form to your recommender as email attachment.

* Note: 1. Form A is for "General recommendation" which should be filled by
a faculty member, academic advisor, or TA.
2. Form B is for "Japanese Language proficiency evaluation and
recommendation form" which should be filled out by your current
Japanese language teacher.
3. Your recommenders can send them electronically or physicall
by Feb 15. All directions including the YIJ email and mail address
are includded in the form.



(3) Your latest transcript


Note: How to Order a Transcript
Official transcripts bear the signature of the Registrar on officially printed paper or
are an electronic version sent directly to the Year in Japan Program.
You can chose either an electronic delivery or paper (physical) delivery to the address below



(4) On-line questionnaires


5 short-answer/essay questions are available on your "My StudyAbroad" on-line (You can use essays/answers in the Year in Japan application form)



(5) Copy of your passport (if you have)




Application Deadline

Final Application Deadline: February 15, 2017
Priority Deadline: Jan 23, 2017.
Tthose who have applied for the program by Jan 23 will be given a priority over the acceptance.
All materials must be submitted to the address below.



Year in Japan Address
Illinois students can drop off their forms in the FLB2045 office door's box or FLB2090 Matsushita's mailbox.
Transcripts can be sent to hiromi3@illinois.edu electronically.
Mailing Address:
Mr. Hiromi Matsushita
Department of East Asian Languages & Cultures
2090 A Foreign Language Building
M/C 146
707 S. Mathews Avenue, Urbana, IL 61801
hiromi3@illinois.edu

Application Process/Timeline

After applying for the Program, you will be asked to meet the Program Coordinator (Mr. Hiromi Matsushita) and selection committee faculty members before or after the Deadline.
Decisions will be announced in early March.
Non-U of I students will be required to submit an additional application to be admitted to UIUC as a non-degree student for the study abroad program and pay an additional application fee of $40.

(Back to top)

Withdrawal, Change and Cancellation Policy
To withdraw, change, or cancel your participation in a study abroad program, please see our Withdrawal and Refund Policy.

If the Study Abroad Office nominates or accepts you to the study abroad program you have applied for, you will then have one week to change your "accepted" status to committed. Should you decide to withdraw before you commit you will not be billed a withdrawal fee. Should you decide to withdraw after you have changed your status to commited, the Study Abroad Office will bill your Illinois student account a nonrefundable $305 withdrawl fee and also be aware that depending on the time of withdrawal you could also be responsible for any nonrefundable fees that have already been paid on your behalf (e.g. flight deposits, housing, etc).

(Back to top)

Passport/Visa Information
You must have a valid passport to participate on this program. If you do not already have a passport, or if it needs to be renewed, you must begin that process now, even before program acceptance. You will learn how to get a visa to enter Japan on time in the Year in Japan Program pre-departure meeting.

Health, Safety and Pre-Departure Orientation
The health and safety of students abroad is something that the University of Illinois takes very seriously, which is why the Study Abroad Office provides services that range from international insurance coverage to a 24-hour phone line to speak to our International Health & Safety team.

All students are required to attend a Pre-Departure Orientation the semester before their term abroad.
The exact date, time, and location will be given to students post-acceptance.
During this orientation, topics such as Culture Shock, health and safety scenarios, and other helpful pre-departure information will be presented.
Additionally, students are required to sign off on a Health & Safety Orientation through their online application.

(Back to top)
Term

Year

App Deadline

Decision Date

Start Date

End Date

Academic Year

2017-2018

03/01/2017

03/08/2017

09/01/2017

05/31/2018

Fall Semester

2017

04/26/2017

04/27/2017

09/06/2017

12/22/2017

Spring Semester

2018

09/15/2017

09/15/2017

TBA

TBA

Fall Semester

2018

02/15/2018

02/15/2018

TBA

TBA

Academic Year

2018-2019

02/15/2018

02/15/2018

TBA

TBA


Indicates that deadline has passed