Programs

Brochure
This page is the brochure for your selected program. You can view the provided information for this program on this page and click on the available buttons for additional options.
LAS: S&P Study Abroad in Barcelona
Barcelona, Spain
(Outgoing Program)
The College of Liberal Arts & Sciences and the Department of Spanish & Portuguese invite you to participate in the LAS-S&P Year in Barcelona program.

This year-long and spring semester program (founded in 1971) is based at the Universidad Central in Barcelona and taught by University of Barcelona professors.
The core cirriculum includes courses in culture, literature and linguistics.
Competetive internships are possible and all advances hours count towards your degree.
You can spend a year or the Spring semester in Barcelona, Spain's second most prominent city, situated on the shores of the Mediterranean Sea and a few hours from the Pyreneese Mountains.
---
Academic Year Option
Year abroad participants study from mid-August to end of June and spring participants from January to June at the Universidad Central, an historic downtown building of the University of Barcelona at the center of the city's cultural and civic life.

The instruction schedule allows for considerable personal time to get involved in local culture or to travel; vacations include two to three weeks in December, one in February, and two at Easter. Barcelona is conveniently situated to travel to all parts of Spain, Northern Africa, and other European countries.
As the LAS-SIP Year in Barcelona program is co-sponsored by the College of Liberal Arts and Sciences and the Department of Spanish, Italian, and Portuguese, it has the benefit of providing the following:
The completion of the Spanish major during the year abroad.
Open to students from all Illinois colleges and majors. Because you can take courses at a local university, the program appeals to many majors in addition to Spanish majors (Anthropology, Economics, Latin American Studies, History, Political Science, Psychology, Sociology, etc.).
You want to be sure to consult your major advisor and browse through the titles of courses offered at the local universities to ensure that appropriate courses would be available to you.
---
SPRING-ONLY OPTION: Spring Semester
While spending a year abroad on the Barcelona program is highly recommended, students can also participate in the spring semester.
To be eligible for the spring-only program, students must have already completed or received credit for the following Spanish courses: SPAN 228 and another course at the 200-level or above.
---
ACADEMICS
Intensive Language: Your year in Barcelona begins with an Intensive Language Program (ILP) that includes grammar review, conversation, contemporary history and culture of Spain, and an introduction to Catalan. The ILP lasts 15 days and carries 3 hours of credit.
Program Courses: After the ILP, you begin the core curriculum, arranged specifically for this program and taught by faculty from the University of Barcelona. Each course meets 3 hours per week for 15 weeks. Click Year in Barcelona Courses for a list of those that are currently offered (note that course offerings are subject to change). All of these courses are pre-articulated for Illinois Spanish credit. Most students take five core courses during the fall semester. During the spring semester, students choose from a combination of core courses, university courses (see below), and internship (see below).
University Courses: In consultation with the program director, you may also enroll in any course offered by the University of Barcelona and/or the Autonomous University of Barcelona. The program offers tutorials for a number of subjects, such as: anthropology, art history, cinema studies,cultural anthropology, economics, gender and women's studies, geography, global studies, history, political science, psychology, sociology, and Spanish literature.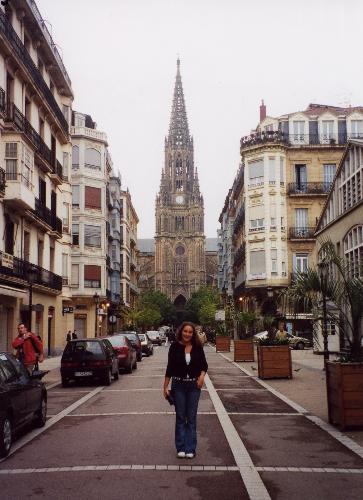 Credit: Spanish courses completed in this program may count as departmental residential advanced hours if evaluated as upper division/advanced hour course work. Such credit may be applied toward a minor, major, or double major in Spanish, or may count as supporting coursework in other fields. Courses taken in this program are considered academic residence courses, meaning all advanced hour credits taken in this program count toward your major (in contrast, in all other programs for study abroad that are not LAS-sponsored, only 3 advanced hours per semester can be applied toward your major.) Note that you still need to fill a physical residency on the ILLINOIS campus to obtain a University of Illinois degree. Transfer students should check with your college advising office for the residency policies that apply to you.

---
Internship opportunity
A unique opportunity is available to 25-30 students each year who qualify while they are in Barcelona for internships in a broad range of fields, including law, business, health, and film. Recently, a pre-med Illinois student was able to shadow a medical doctor in his practice and hospital duties. An amazing preparation for her future career!
---
FIELD TRIPS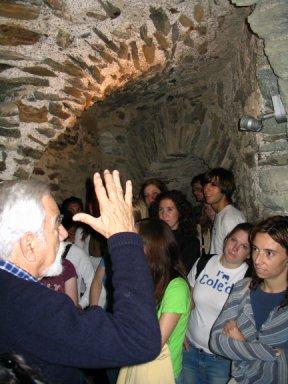 The program arranges group excursions to historical significant cities in Catalunya and to various cultural events. Possible events include: San Pere de Roda, a 10th-Century abbey on the Mediterranean coast, or the beautiful city of Girona.
BARCELONA AND CATALAN
Barcelona is a bustling, cosmopolitan city of 3 million people with a diverse linguistic and ethnic heritage, a rich and varied culture, and an ancient history. All residents of Barcelona speak Castilian Spanish and Catalan. This bilingual, bicultural charm of the city makes it a distinctive place to study. Students often ask if the bilingual nature of the city will make learning Spanish difficult. The answer is an overwhelming no! Students return with amazing Spanish skills after a year on this program. Some students embrace Catalan and take as many classes as they can to enrich their stay in Barcelona. Others focus only on Spanish language acquisition during their year abroad. What you will experience is a truly bilingual experience, one that reflects a real language experience in many parts of the world. You can be assured, however, that your Spanish language skills will flourish in this bilingual city and should not fear that the presence of Catalan will impede this process.
---
HOUSING
For the first two weeks of the year abroad program, you will be housed in a private college. During the academic year, you may choose to live with families, señoras (single women), or in apartments with Spanish students or professionals. The program has a housing list that you'll receive upon arrival in Barcelona (For the spring option, you will be housed with a host family during the orientation period and then switch to permanent housing similar to the year abroad students described above.)
---
ELIGIBILITY
Although priority is given to Spanish majors, the program is open to University of Illinois students who have completed SPAN 228 and another course 200-level or above, and California undergraduate students with junior standing in any major. Others may be admitted.

Applicants must have a minimum 3.0 grade point average. In addition to the academic requirements, students must have the kind of flexibility and sensitivity to others that will allow for successful adjustment to an unfamiliar cultural setting.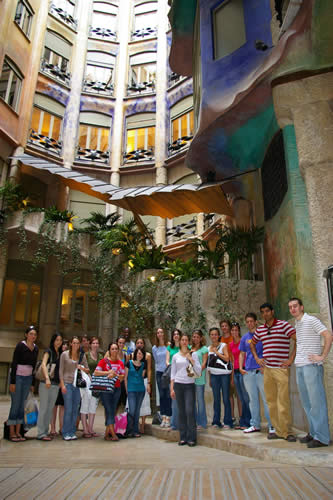 ---
FINANCIAL AID / SCHOLARSHIP
Your financial aid and other scholarships may be applied to this program. Check with the financial aid office on campus to verify your individual situation (take a copy of the estimated budget with you).
---
APPLICATION INFORMATION
Deadline
Complete applications for the Academic year program must be received by February 15, the final deadline for this program for the following academic year. Applications for the Spring program must be received by September 15.
Application Process
Please click Apply Now above to apply. Note that you will be charged a non-refundable application fee by clicking Apply Now. The application includes: an official transcript, 2 letters of recommendation (on-line preferrably and one of which must be from a Spanish language instructor) an essay, and some on-line questionnaires. Please follow on-line instructions for submitting materials. Submit all hard copies to the Study Abroad Office.
Passport/Visa
You must have a valid passport to participate in this program. If you do not already have a passport, or if it needs to be renewed, please begin that process now, even before program acceptance. You may also be required to get a visa for your program. More information will be provided by the LAS International Programs (Mr. Kelly White: las-studyabroad.illinois.edu) for the spring program and to the SIP Department Office (4080 FLB) for the year abroad program.
For More Information:

Ms. Tasha Robles
University of Illinois
Department of Spanish & Portuguese
4004 Foreign Language Building
707 South Mathews
Urbana, IL 61801
(217) 244-6732
email: tmatos@illinois.edu
Term

Year

App Deadline

Decision Date

Start Date

End Date

Spring Semester

2018

09/15/2017

10/01/2017

01/08/2018

07/01/2018

Academic Year

2018-2019

02/15/2018

02/15/2018

TBA

TBA

Spring Semester

2019

09/15/2018

09/16/2018

TBA

TBA


Indicates that deadline has passed